The WMS Online Selection Family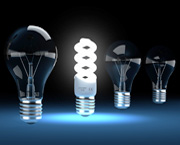 Our WMS Online Selection service provides users with a neutral comparison of more than 100 Warehouse Management Systems. Through the use of an extensive list of questions, Team warehouse logistics captures each individual user requirement online, assigns a weighting to it, and then compares it with the validated functionality of the systems participating in the WMS Database of Fraunhofer IML.
We offer WMS Online Selection in four different versions (see the descriptions below). The free express version allows users to perform a preselection of vendors and systems based on K.O. criteria.
Express Version (free)
The express version provides you with a quick overview of suitable WMS vendors.
Price: 0 EUR
Period of validity: Unlimited
Use of the K.O. criteria: No limit
Results: Short list of suitable WMS
[More information about our Express Version...]
You can use WMS Online Selection as soon as you have registered!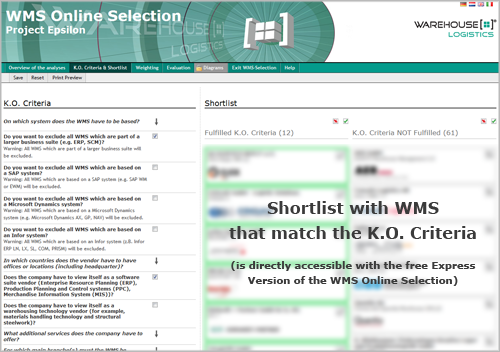 Premium Version
The premium version offers the most functionality of our three versions and is the best one to use if you require information about all details of the functionality of a WMS (down to the exact answers provided by the WMS vendors to our questionnaire). It is also the version you should choose if you will need to access the WMS Database frequently (for example, this is important for consulting companies).
Price: 2500 EUR
Period of validity: 1 year
Number of evaluations: No limit
Use of the K.O. criteria: No limit
Results: Indication of the degree to which the functionality meet the requirements for each question category
Graphics of the results (overviews of the entire system and of the different functionality) as well as PDF downloads
Plus: Ability to include or exclude specific vendors
Plus: Overview of the K.O. criteria not met by a vendor
Plus: Ability to view the answers provided by the vendors to all questions (see below the figure)
Plus: Many additional images (for example, overview of the averages, best in class)
[Register for our Premium Version...]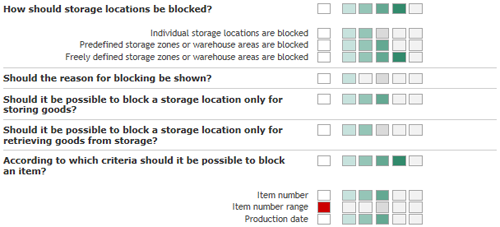 Figure: The premium version lets you view the results down to the level of the answers provided by the vendors (including a comparison of how the vendors weighted the requirements)
Access for Colleges and Universities
This version is tailored for our WMS seminar for colleges and universities and the seminar exercises.
Exclusive access for colleges and universities
Price: free
Period of validity: as required
Number of evaluation : unlimited
Use of the K.O. criteria: limited
Use of the weighting: limited
Results: indication of the degree to which the functionality meet the requirements for each question category
Graphics of the results (overviews of the entire system and of the different functionality) as well as PDF downloads