WMS Market Report 2010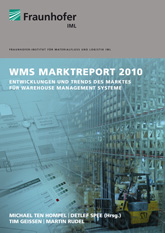 Development and Trends in the Warehouse Management Systems Market
The 2010 Market Report published by Team warehouse logistics is an update to the market study on Warehouse Management Systems (WMS) that they first initiated in 2007/2008. The results are based on expert surveys with WMS vendors and users and the team's more than 10 years of project experience in the areas of selecting and implementing WMS.
The WMS market is constantly in flux. New vendors with new products enter the market and projects result in new developments and innovations. The market continues to grow in complexity and become less transparent. The WMS Market Report is the key to keeping up with the market: it reports on the latest trends and developments in the WMS market and it provides an overview of the functionality of the popular WMS.
"The Standard WMS", "The WMS Market", and "The WMS Projekt" are the core chapters of the report. These chapters contain descriptions of the core and additional functionality of Warehouse Management Systems and identify the main driving forces behind the development of the WMS by the vendors. These chapters also contain information on vendor size and sales figures, key success factors and economic conditions, and the common phases of a WMS project with typical Key Performance Indicators and project environments.
The WMS Market Report can be purchased online and downloaded from our shop at sho p.warehouse-logistics.com. By creating the report in digital form, we were able to make it available faster and for a lower price. A print on demand version of the market report can also be ordered in softcover or hardcover form.
You can download a preview of the report with a table of contents from our shop.
Please do not hesitate to contact us if you have any questions.