»Strategic Logistics IT Consulting«
Support in Strategy Development for Your Logistics IT
Would you like to support your logistics processes digitally? Do you have a historically grown IT system landscape in your company? Do you know your challenges and problems in logistics, but don't know which IT system would be the best solution?
Let the experienced »Team warehouse logistics« of the Fraunhofer Institute for Material Flow and Logistics IML support you in finding a solution. In targeted process and strategy workshops, we work with you to develop a target picture for a meaningful future orientation of your Logistics IT in your company. If you are already one step ahead and are looking for support for a successful Logistics IT selection and introduction, you will find information on this in the »Logistics IT Consulting« section.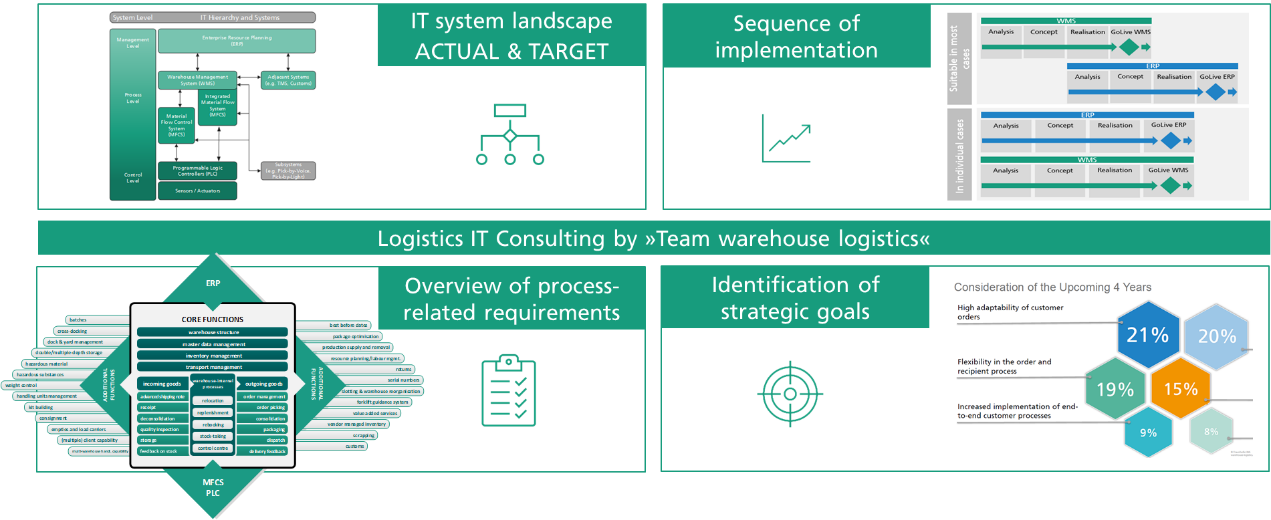 In doing so, the focus is both on the recording of all IT systems currently involved in the logistics processes and on the identification of the existing interfaces between them. In addition, the functional demarcation of the various IT systems used is also considered. Whitespots in the system coverage and in the communication between the systems are identified. The resulting actual IT system landscape serves as a basis for the realignment of your Logistics IT systems.
By recording your existing process-related requirements and challenges in logistics, a target IT system landscape is created, which serves as a target for the further procedure. We take your logistics processes in the context of warehouse inspections, expert interviews and joint process modelling according to the brown paper method. The level of detail of the process surveys in this early phase depends largely on your individual initial situation and project complexity.
In addition to the process-related requirements, it is also crucial to incorporate the strategic goals of your company into the target picture of your future target IT system landscape. For this purpose, we organize and moderate methodically designed strategy workshops, which involve all stakeholders within the company.
If the introduction of several Logistics IT systems is necessary, we also support you in identifying a sensible implementation sequence. In this context, we consider, for example, required interfaces between the systems as well as implementation periods and required capacities. The »Team warehouse logistics« will summarize the results in the form of a roadmap. In this roadmap, the individual steps for the selection and introduction of the identified Logistics IT systems are presented in a structured way and a corresponding time and resource planning is shown.