Training and Education
Introduction and specialisation in Logistics IT and Warehouse Management Systems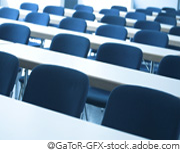 Due to our more than 20 years of comprehensive activity in the field of Logistics IT and in particular in the field of Warehouse Management Systems, we - the »Team warehouse logistics« - have extensive, detailed and provider-independent knowledge of the Logistics IT and WMS market. Our scientific and consulting activities and the development of our independent »Logistics IT Database« have contributed to this.
It is our concern to transfer this knowledge to society through training and further education programmes. Our training portfolio is aimed at colleges and universities as well as professional associations and individual companies.
We support you in expanding your know-how in the field of Logistics IT and especially Warehouse Management Systems from a strategic point of view. Whether it is to be able to support your customers even more effectively in the field of digitalisation, to develop your sales staff from salespersons to system consultants or to successfully prepare your own system Go Live. With the expertise we have built up, the participants in our individually tailored training courses have the opportunity to gain comprehensive knowledge of Logistics IT systems, their functionality and their use. Depending on the training modules, you will then be able to assess the current situation of the IT system landscape, identify requirements for Logistics IT systems and recognise stumbling blocks in the implementation of your IT system.
What does training include?
Depending on your individual needs, the following contents are part of the training:
Functional delimitation of different Logistics IT systems
Classification of various Logistics IT systems in the IT system landscape
Successful selection and introduction of a Logistics IT system
Pitfalls at System Go Live
Application of the »Logistics IT Online Selection«
Design and structuring of a WMS requirements specification sheet
Definition and tasks of a Warehouse Management System
Functional scope of a Warehouse Management System
Market overview of Warehouse Management Systems
Please do not hesitate to contact us. We will be glad to develop in cooperation with you the training offer that suits you best.
Exemplary Training Schedule

»WMS Online Selection«
On the basis of our worldwide unique »Logistics IT Database« approx. 90 Logistics IT systems, especially Warehouse Management Systems, can be compared with each other within a very short time! As a result, the user receives a list of software solutions that functionally best fit his individual application. In addition, a comprehensive documentation is available for download. As this service is available online on warehouse-logistics.com, access is possible at any time and from anywhere.
Since the WMS questionnaire is highly detailed and takes into account more than 3,700 individual aspects, a precisely tailored and individual combination of WMS users and providers is possible. The respective provider information is continuously checked by the »Team warehouse logistics« (in a validation process certified according to DIN EN ISO 9001).
There are various access types for the use of the »WMS Online Selection«, which differ in their functional scope. Exclusively for teaching at colleges and universities, we offer a free access for universities.
The access for universities enables lecturers and students to gain a first comprehensive insight into the possibilities of the »WMS Online Selection« without being "overwhelmed" by a flood of data. K.O. criteria can be defined, as well as a weighting of priorities in three levels for individual functional areas. This not only gives lecturers and students an overview of how the »WMS Online Selection« works, but also allows them to download their individual results as a graphic and PDF document with all the details and results they have entered.
Further information on these and other access methods can be found under Access »WMS Online Selection«.
Your advantages at a glance
Detailed documentation based on long lasting experience
Practical topics with many practical examples from logistics
Combination of theoretical knowledge transfer and practical application in the form of business games or case studies (depending on group size)
Comprehensive support for your education / training in the company
Guest and specialist lectures at universities, colleges and for professional associations
Free access to the »WMS Online Selection« for lecturers at colleges and universities
With our contribution we want to inform future specialists and thus promote logistics in a sustainable way.
Any Questions? Feel Free to Contact Us!
Pleasecontactus, we are glad to be at your disposal:
»​Team warehouse logistics«
Phone: +49 (0) 231 / 97 43 - 214
info@warehouse-logistics.com