HARDIS GROUP
http://www.hardis-group.com
Additional content is available in the following languages:

Warehouse Management Systems
Information related to the company
Company description
About HARDIS GROUP
Hardis Group, a digital services company and software publisher, assists its customers in their move to digital and omnichannel. The company helps them transform their information systems, their supply chain and their customer relationships to create value and increase operational performance. With its dual historical positioning, Hardis Group has developed business expertise in the areas of banking, insurance and e-health, distribution (CPG and luxury goods), industry and energy, logistics and transport services. Today, this experience allows Hardis Group to offer global solutions which meet the customers' needs, based on an agile co-construction approach as part of the innovation and continuous improvement policy.
Since the company began business in 1984, it has been building its growth on a pragmatic approach and the values of efficacy and strong commitment both to its 2500 customers and to its 900 employees (25% of employees are shareholders). In 2016, Hardis Group achieved a turnover of €83.3 million. The Group has five offices in France: Grenoble (head office), Lyon, Paris, Lille, Bordeaux and Nantes.
www.hardis-group.com/en
Information related to the product
REFLEX V9.12
Description
http://www.hardis-group.com/en/our-activities/logistics-solutions/reflex-wms-warehouse-management-and-coordination-software
Target group
Logistics and transport providers
Distribution, Luxury goods and CPG
Features
Full Web HTML5
Future plans
In Store Logistics
Product Screenshots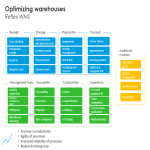 Languages





News
Show all
[less]