Advisory Committee warehouse logistics
Which Function Does the Advisory Committee Fulfill?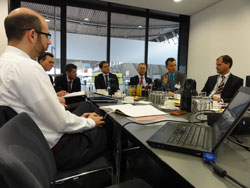 The warehouse logistics advisory committee was founded in March 2009 to provide support for the long-term development of the online portal warehouse-logistics.com.
The committee has an advisory function and its role is to support and promote the future development of the portal. The main focus of the committee is on the development of warehouse-logistics.com but they also exchange news on a regular basis and are active in the early identification of trends. The committee also works to strengthen and expand the existing WMS community.
The advisory committee has extensive knowledge and experience in the area of WMS and it is made up of participants from the WMS Database. The composition of the group is oriented toward the structure of the participants. Past experience has shown that cooperation between Team warehouse logistics and WMS vendors has a positive influence on the quality of the portal: this process was solidified by the establishment of the advisory committee.
Photo: Committee meeting in October 2015
Committee Members
active logistics AG, Click Reply - Business Unit di @logistics Reply S.r.l., Ehrhardt + Partner GmbH & Co. KG, ita vero GmbH, Jungheinrich AG,PSI Logistics GmbH, S&P Computersysteme GmbH, SAP AG, Vanderlande Industries GmbH, WANKO Informationslogistik GmbH.