Definition Forklift Guidance System
What is a Forklift Guidance System?
A forklift guidance system (FGS) acts as a planning and control system for the use of ground conveyors for internal transport tasks. Considering different types of existing ground conveyors, the transport processes are optimised in order to ensure a high level of efficiency both in terms of capacity utilisation and routes. In addition to the appropriate allocation of transport orders regardless of the type of transport (e.g. storage, transfer, removal, staging or replenishment), this includes determining the shortest routes and avoiding empty and search trips.
The FGS takes over the forklift disposition considering the requirements and the complexity of the transport semi-automatically or even automatically. In addition, the FGS also supports manual order assignment. Any bottlenecks that may occur due to a lack of vehicles are thus minimised and disposition is controlled according to previously defined priorities.
The visualisation in the control centre not only provides an overview of the positions of the vehicles, the status of individual orders and transport statistics, but also enables the initiation and disposition of transport orders.
The orchestration of the disposition by an FGS thus not only leads to an optimisation and transparent representation of the internal transport processes, but also to the avoidance of bottlenecks and thus holds a corresponding savings potential in logistics.
Functionality of an FGS
A modern FGS has a modular structure, whereby the individual functions can be grouped into core and additional functions. This means that only the modules required by the customer, and no longer the entire FGS, need to be installed. If in the future an extension of the functionality is required to provide functional support for new task areas, the required modules are then added to the existing system and activated. As a rule, the customer only pays for the required functionality.
A standard FGS has all the functions necessary for planning and controlling internal transport processes.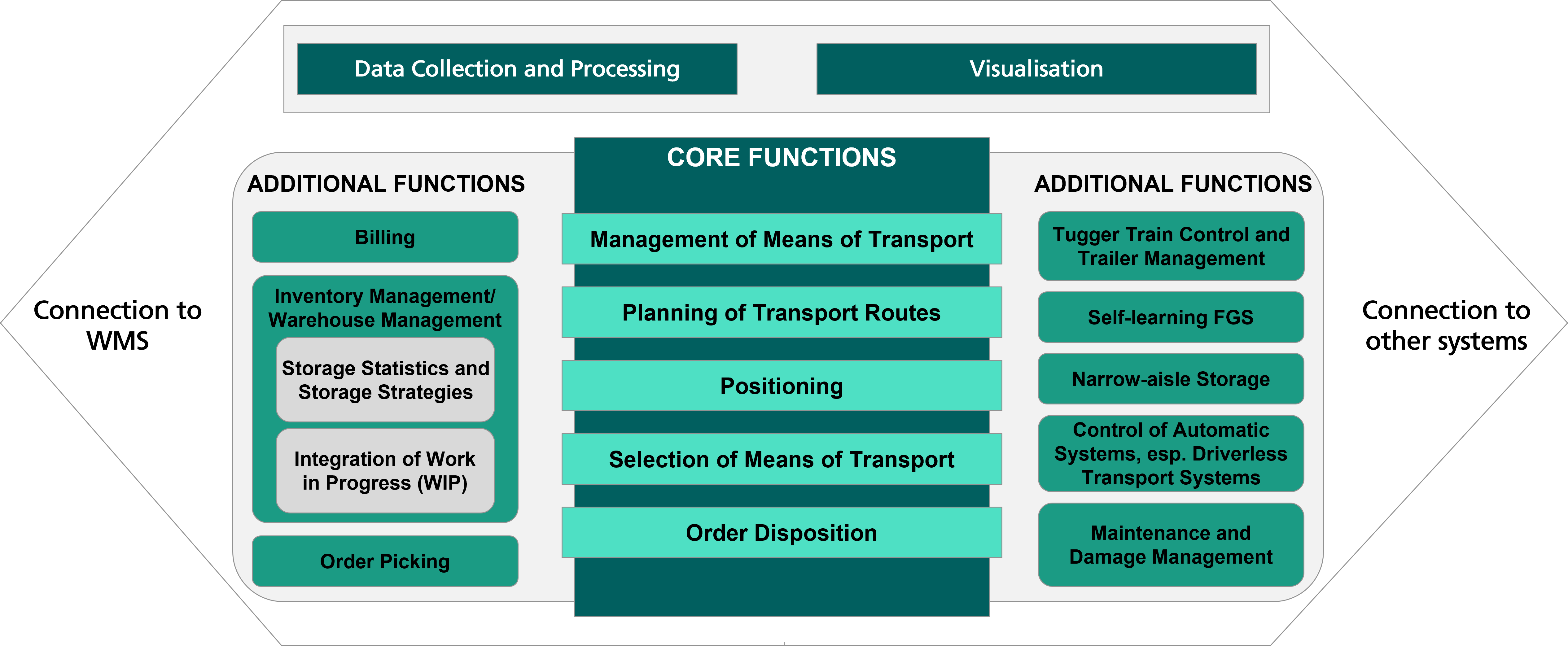 Basically, the user defines the scope of the FGS. Any function that the user deems necessary is part of his FGS.
Core Functions
The core functions belong to the ordinary functional area of each FGS. They are indispensable for the operation of the FGS and belong to the minimum installation scope of each system. A few core functions, such as mobile data collection, are also offered separately by specialists as independent modules. Normally, however, the core functions are only supported by modules from the FGS provider. The core functions support the main area of application of each FGS: from the creation of transport orders to the control of internal transports to the correct completion of transport orders.
Additional Functions
The additional functions exceed the scope of functions required for the pure control and execution of internal transports. Some of the systems available on the market offer simple stock management or support in the order picking process. In addition, more advanced functionalities are offered, for example, for the management of means of transport (damage and maintenance management).