RPS Questionnaire
Which Functional Aspects Does the RPS Questionnaire Cover?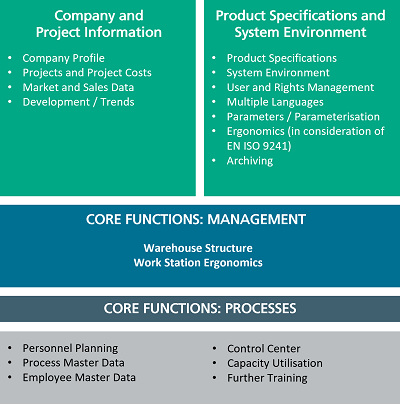 The questionnaire for Resource Planning Systems (RPS questionnaire) is part of the system questionnaires, which together form the basis of the »Logistics IT Database« provided by Fraunhofer IML.
In addition to general aspects about the company, the RPS questionnaire also covers the company's range of services and experiences. However, the focus of the RPS questionnaire is on the functional support of a demand-oriented personnel deployment planning. For this purpose, the master data functions for processes and employees as well as the options regarding management, planning and deployment of personnel are considered. Furthermore, functions are recorded which round off the personnel resource planning by providing an overview of the current processing status and capacity utilisation.
This results in a level of detail that reflects both the individual requirements of the user and the functional capabilities of the RPS solutions. Typical questions are for example
Which parameters can be indicated for shift planning?
In a comparison with personnel requirement and staff, does the system identify personnel requirements shortages?
For which period can the load forecast of the personnel capacities be determined?
Scope of functions of the RPS Questionnaire
In addition, the questionnaire collects a variety of other information relating to developments, trends and assessments of the respective company in the RPS market.
The questionnaire is adapted or extended annually according to the latest requirements and developments. In addition to project experience, feedback from the users of the database (RPS providers, RPS users and consulting companies) is also used for this purpose.
Validation and Use of the Data
The data provided by a Logistics IT provider is not added to the database or made available for use by »Logistics IT Online Selection« until it has been successfully validated. The annual updating of the questionnaire combined with the yearly validation of the data is what guarantees that the data is always up to date.