»WMS Consulting«
Which Scope of Services Does »WMS Consulting« Offer?
Pursuing new paths in logistics means to define goals and to find the most suitable solution. The interdisciplinary »Team warehouse logistics« – comprising engineers, computer scientists and logisticians – will help you find a suitable Warehouse Management System (WMS) in a constructive and efficient manner.
For more than 20 years, »Team warehouse logistics« runs one of the world's leading information platforms for the comparison of WMS and related providers. Thereby the functional aspects of WMS are validated (certified according to DIN EN ISO 9001) once a year by the experts of Fraunhofer IML and provided to users to choose suitable WMS providers and systems. The specific market know-how on the one hand and the manufacturer-independence and objectivity of Fraunhofer IML on the other hand, enables a requirement fitting, customized consultancy in search of a suitable WMS provider. Your profit is a constantly up-to-date market overview and a maximized decision-making reliability.
When implementing a WMS, »Teamwarehouse logistics« provides support within the »WMS Consulting« from process analysis through defining requirements up to tendering and realization of the custom-fit WMS for your field of application. The scope of services offered can extend over all project phases or contain only individual phases or steps.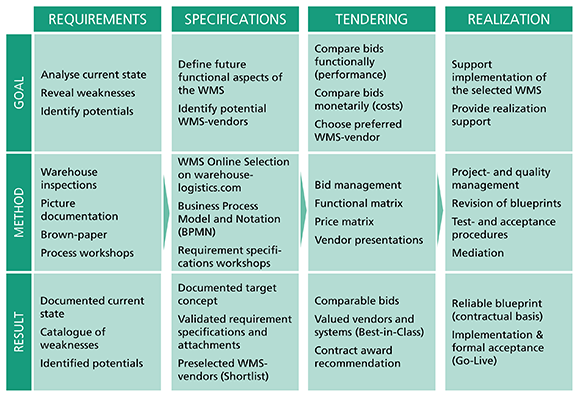 »WMS Consulting« – Requirements
The first step of our »WMS Consulting« involves capturing your processes, Key Performance Indicators, configurations, existing WMS functionality, interfaces, and planning-related restrictions and specifications within the scope of a warehouse inspection. The existing processes are considered along the material flow, beginning with incoming orders through goods receipt up to goods issue, and aligned to future developments. By asking targeted questions, »Team warehouse logistics« ensures an efficient recording of all WMS-relevant aspects. The requirements for future WMS are concretised in technical discussions with employees from different specific fields, to bring them together in formal requirement specifications later on. Identified weaknesses and potentials are prepared and documented in a catalogue of weaknesses.
»WMS Consulting« – Specifications
During phase of specifications we support you, within the scope of workshops, to compile and adopt requirement specifications. These specifications basically describe "what" the WMS has to offer – without saying "how" this has to be realized. Requirement specifications should be written as general as possible and as restrictive as necessary. They are based on the structure of VDI guideline 3601 »Warehouse-Management-Systems«, which was amongst others created by »Team warehouse logistics«. Next to creating specifications, we prepare a requirements profile for the present case of the customer, using the »WMS Online Selection« of our»WMS Database«. This allows a functional ranking of possible WMS according to their expected performance in a specific application as well as the preselection of suitable WMS providers (shortlist).
»WMS Consulting« – Tendering
Within the framework of tendering, tendering documents (requirement specifications and relevant attachments) are send to the preselected WMS providers. During announcement »Team warehouse logistics« assumes tendering management of dates, deadlines and responses. When the offers are returned the bidders are requested to provide any missing information and to change the content so that the offers can be compared more easily. For decision making it is usually not enough to compare functional and monetary facts and figures of the bids. That is why we are organising and moderating provider presentation workshops, where the provider gets the chance to present his offer personally. Afterwards it is possible to perform an additional workshop for a joint, systematically decision making and assessment. At the end of the tendering phase a contract award recommendation is submitted.
»WMS Consulting« – Realization
During implementation of the new WMS, »Team warehouse logistics« supports you to test and evaluate the functional specifications and the documentation provided by the WMS provider. We will also help you with technical clarifications for any changes and adaptations in scope of delivery. If desired, »Team warehouse logistics« will support you with the roll out and successful initial operation of the new WMS and the formal acceptance of the system by all of the technical teams.
Any Questions? Feel Free to Contact Us!
Please contact us, we are glad to be at your disposal:
»Team warehouse logistics«
Phone: +49 (0) 231 / 97 43 - 214
info@warehouse-logistics.com